The keypad can easily be connected to and powered by the LiftMaster CB1 Control panel. The DC30SS or DC40SS show 12v on the board but it can also be used on 24v AC also.
Connect from terminal 21 and 22 of the CB1 to the 12v and 0v of the Keypad to gain power. Connect from terminal 15 to common and terminal 18 to NO to allow control of the gate operators.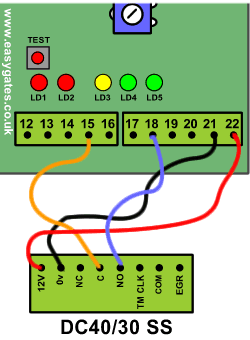 Warning:
Do not link 0v to C on the keypad.
Do not connect any power to terminals 15 and 18 on the CB1 control panel.
Disclaimer:
Please note this is just a guide and may vary according to your setup. Please read all instructions from the manufacturers before referring to our guides. EasyGates Ltd will not held responsible for any damage due to equipment caused due to poor wiring.