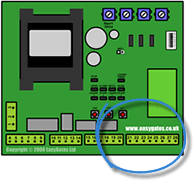 Connecting to a Chamberlain LiftMaster CB11 Control Panel
Connections 17/18 are a switched no voltage ouput on the Logisty or Daitem Controller Unit (D5200 or L5200). These can be used to trigger the gate system by adding the connections to 17/20 retrospectively to the LiftMaster CB11 Control Panel. Link 15 and 16 on the Daitem controller.
Other gate systems can also be used – see the manual for your gate system for more information or call us for help.